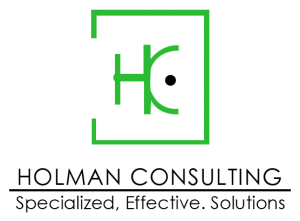 ABOUT US
Holman Consulting is a firm which specializes in providing Accounting, Auditing, Payroll,Human Resource, Finance and Business Development solutions with Information Technology. Our combined knowledge in these expert areas position us to provide a solution that meets our clients' growing needs while keeping in line with the level of service and support delivery we are identified with.
MISSION
To be the most customer focused company which, provides specialized, cost effective solutions to its client. Provide integrated 3S services (Sales, Support, and Satisfaction). Provide adequate and uptodate training for our staff. To establish a network which enables us fix the problem, right, the first time. To contribute to society as a good corporate citizen.
VISION
To be a household name in West Africa, in the Deployment, Training and Supporting Accounitng Information Systems.

---
The Hallmark of our Professionalism
Each member of the Firm's staff is uniquely qualified in his/her area of expertise and has extensive professional experience mostly acquired within the Firm. It is the policy of the Firm to assign to all engagements staff that are not only experienced but also exposed to tested techniques and approaches to conducting business assignments. The hallmark of our professionalism is demonstrated in our:
COMMITMENT
Management and staff are absolutely committed to client satisfaction. We are dedicated to the provision of unique, quality and distinguished client service. HCL adopts the team approach in the execution of all assignments. This ensures that proper and adequate planning precedes the execution of each assignment and supervision is provided thus ensuring that we deliver to exceed the clients expectation.
UNDERSTANDING
Our approach to service delivery is driven largely by our ability to obtain a clear understanding of our clients' specific needs. At HCL, every client's needs are considered specific and our philosophy is to provide services that serve the needs of the client.
AGILITY
People in business never seem to have enough time. When customers need our services we have to be ready and responsive, anticipating and interpreting their needs. We've all experienced slow, unresponsive customer service and the frustration that it creates. Likewise, a customer experience can be ruined by an inappropriate solution that's not clearly thought through in a timely fashion. Through agility, we set ourselves apart, both as a company to do business with and as a place in which to work.
INTEGRATED SERVICES
HCL offers its clients a one-stop shop. This, among others, ensures that our clients are adequately served wherever we are located.
TRUST
If you are prepared to place the inner financial workings of your business, or the payroll system for your people, in someone else's hands you need to believe that you can trust them fully to deliver. Our customers need to know and believe that we are on their side, that we are there to help them run a better business and that the advice we offer and the services we provide are in their best interests.
SUPPORT
The support service and aftercare we provide to our customers is the cornerstone of our success. We believe we are already the best in our industry at offering customer service, but we want to offer an outstanding experience at every level. We recognise that smaller businesses have limited sources of advice and very often have no IT department. They look to Sage for advice on how to get the most out of their software to enable better business performance and for guidance on business critical topics such as accounting, employment legislation, maternity, payroll, financial reporting and more. Our business partners build close working relationships with larger, SagePastel customers, help to tailor their solutions, deliver large scale implementation, provide specialist knowledge, on-site support and other added value services. We believe we are not just a software supplier but a partner in our customers' businesses helping them run their businesses more effectively and realise their ambitions. Our partnerships are built on the ongoing dialogue we have with our customers, the provision of high quality support and advice and the loyalty and trust that results from this. Our emphasis on support is backed up by the resources we put behind it. Across the business as a whole, more than 40 per cent* of our people work in technical support, customer service or customer training roles.